This year's Arrowverse crossover is staging quite the Smallville reunion.
Just one day after the news of Tom Welling reprising his Clark Kent role from The CW drama dropped, comes the news that Erica Durance will appear as Lois Lane.
It's going to make for quite a surprise for fans of both Smallville and the Arrowverse shows. 
Lois and Clarke ended Smallville very much together, and we're willing to bet they will still be going strong all these years later. 
It's unclear how many episodes of the five-part crossover Durance and Welling will appear in, but we know it will be more than one. 
Related: Tom Welling to Reprise Superman Role
As for Lois, Elizabeth Tulloch is on board to play another iteration of the character — one that first appeared on last year's crossover.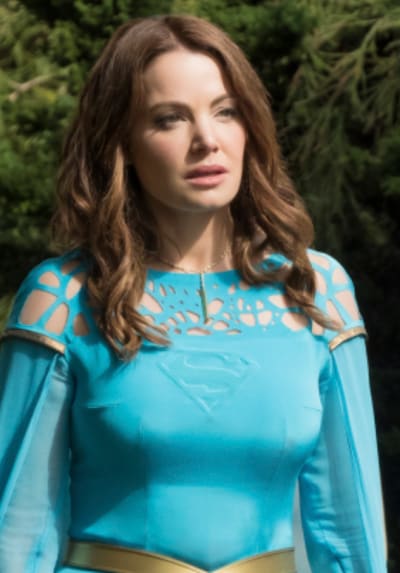 Welling is the third Superman confirmed for the crossover, with Tyler Hoechlin and Brandon Routh set to play the Man of Steel. 
"For eight years, Arrow has stood on the shoulders of Smallville," EP Marc Guggenheim said in a statement. "Simply put, there would be no Arrow, and no Arrowverse, without it."
Related: Crisis On Infinite Earths Crossover: Everything We Know
"So when we first started talking about 'Crisis on Infinite Earths,' our first, second, and third priorities were getting Tom to reprise his iconic role as Clark Kent." To say that we're thrilled would be a Superman-sized understatement."
Crisis on Infinite Earths is a five-part crossover that gets underway Sunday, December 8. It will also air Monday, December 9 and Tuesday, December 10. 
It will then conclude January 14. 
While plot details are being kept under wraps, we do know that it is based on the comic series of the same name. 
Here's the logline for it:
This is the story that changed the DC Universe forever. crisis on infinite earths A mysterious being known as the Anti-Monitor has begun a crusade across time to bring about the end of all existence.
Related: Arrow Season 7 Episode 9 Review: Elseworlds, Part Two
As alternate earths are systematically destroyed, the Monitor quickly assembles a team of super-heroes from across time and space to battle his counterpart and stop the destruction.
DC's greatest heroes including Superman, Batman, Wonder Woman, Green Lantern, and Aquaman, assemble to stop the menace, but as they watch both the Flash and Supergirl die in battle, they begin to wonder if even all of the heroes in the world can stop this destructive force.
What are your thoughts on this news?
Hit the comments below. 
Paul Dailly is the Associate Editor for TV Fanatic. Follow him on Twitter.